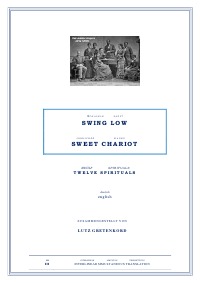 In diesem Heft finden Sie zwölf bekannte SPIRITUALS, inklusive Melodie und Akkordbezeichnungen. Der Clou ist der Text: Zweisprachig (englisch und deutsch) mit INTERLINEAR-SIMULTAN-ÜBERSETZUNG. Über jedem englischen Wort steht in kleiner Schrift die deutsche Übersetzung. Sie brauchen kein Wörterbuch und haben die im jeweiligen Zusammenhang passende Bedeutung im Bruchteil einer Sekunde parat. Das gilt auch, wenn Sie nur über Grundkenntnisse der Fremdsprache verfügen.
Folgende Lieder sind enthalten:
GO DOWN MOSES * SOMETIMES I FEEL LIKE A MOTHERLESS CHILD * JOSHUA FIT THE BATTLE OF JERICO * NOBODY KNOWS THE TROUBLE I´VE SEEN * DOWN BY THE RIVERSIDE * GO TELL IT ON THE MOUNTAIN * GIVE ME THAT OLD TIME RELIGION * IT´S A ME, O LORD * ROLL JORDAN ROLL * MICHAEL ROWS THE BOAT ASHORE * HE GOT THE WHOLE WORLD IN HIS HAND * SWING LOW, SWEET CHARIOT.
Werfen Sie doch einen Blick ins Heft:
https://www.epubli.de/shop/buch/swing-low-sweet-chariot-lutz-gretenkord-9783745010138/66368
Heftbindung. ISBN 978-3-7450-1013-8. €6,99
Idee und Gestaltung: Lutz Gretenkord
Interlinear Simultaneous Translation, Marburg an der Lahn
Druck und Vertrieb: epubli, Berlin (www.epubli.de)